Baga is also well known for its commercial nightlife, including the infamous Tito's and Cafe Mambo. This area is particularly popular with Indian tourists.
​
Location : North Goa, is a 15-minute drive.
Calangute Beach is the busiest and most commercial beach in Goa. It's filled with foreigners tanning themselves on the endless rows of side-by-side sun lounges, and Indian men who come to watch.
Location : North Goa, is a 15-minute drive.
Anjuna Beach was once home to the hippies. They've now moved on but their legacy remains. The Wednesday Anjuna Beach flea market is bigger than ever and continues to remain popular.
​
Location : North Goa, is a 35-mins drive.
Vagator Beach, north of Anjuna, is located at the bottom of a steep cliff.This area is known for psy-trance, with legendary party spot Disco Valley nearby. It also has a landmark face of Lord Shiva carved into rock.
Location : North Goa, is a 35-minute drive.
Candolim & Sinquerim Beach
The long straight stretch of Candolim Beach is lined with shacks and restaurants, which back onto scrub-covered sand dunes. Candolim Beach joins smaller and quieter Sinquerim Beach to the south, which is where Aguada Fort is situated.
​
Location : North Goa, is 4 Km away.
Groovy beach bars and beach huts, as well as a few fashionable resorts, can be found there. The area also has a number of yoga retreats.
​
​
Location : North Goa, is a 40-minute drive.
Lively offshore casino offering numerous games & tournaments live entertainment & dining.
​
Location : North Goa, is a 2-minute drive.
We have a fully stocked alcohol store walking distance from the properties.
​
Connect with yourself as you retreat into an ambiance of peace, relaxation and positive energy.
​
​
If you're a believer like us, the biggest Maruti Temple is Stone throw.
​
​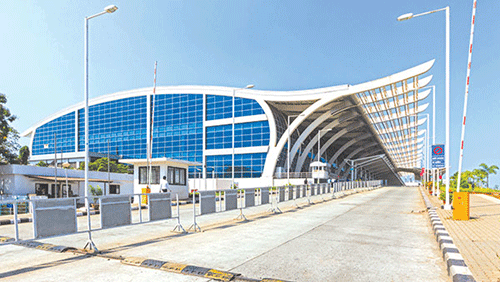 Dabolim Airport 45 minutes/30 km
​
​
Thivim Station 37 minutes/20 km
Madgaon Station 1hr 15 min/41 kms
​
​
Casual Everyday Dining Spots
1. Jazz Cafe (Candolim) 5.3 kms/11 min Live music daily
2. Candolim Deck(Candolim) 5 km/10 min
3. Babazin (Reis Magos) 2.3 km/5 min Seaside shack
4. Spice Goa (Verem) 0.7 km/3 min
5. Mira Cafe (Panjim) 10 km/20 min Regional food & snacks
1. A Reverie (Calangute) 7.7 km/16 min European
2. Amavi by Sumera (Calangute) 7.7 km/16 minutes Italian/French cuisine
3. Tataki (Panjim) 6.2 km/13 minutes Oriental/Japanese
4. Suzies (Assagaon) 13 km/24 min 5-course fusion meals paired with cocktails
5. Favela Goa (Baga)16 km/30 min
1. Calamari (Candolim) 6 km/13 min Seaside, live music, beach beds, Multicuisine
2. Pings Bia Hoi (Sangolda) 6.5 km/13 minutes Vietnamese/Japanese
3. Lazy Goose (Nerul) 3.7 km/7 min Fresh seafood/continental
4. Amrapali Cafe (Maina) 14 km/25 min Lakeside cafe/Eclectic continental
5. Black Sheep Bistro (Panjim) 9.5km/15 minutes. Clever cocktails/eclectic food
6. Ida (Anjuna) 20 km/35 min Continental/ Portuguese cuisine
7. Jamun Goa (Assagaon) 14 km/25 min Modern Indian
8. Villa Blanche (Assagaon) 14 km/25 min German cafe/Vegan food/Desserts
9. Ciao Bella (Assagaon) 14 km/25 min Italian cuisine
10. Gunpowder (Assagaon) 14 km/25 min South Indian coastal
11. Sublime (Assagaon) 13km/23 min European food
12. SEA (Assagaon) 13 km/23 min Seafood/Coastal
1. Terry's (Betim) 6 min/2 km Basic groceries & kitchen items.
2. Delfino (Porvorim) 10 min/3.1 km Comprehensive store for groceries/household items/crockery/cutlery.
3. Newtons (Candolim) 13 min/5.6 km Imported & Indian food store, all house items.